Its as easy as this...
Yesterday we spent some time with my great niece...
...Well I say my great niece she is actually my wife's brothers daughters little girl so I doubt it is the proper term but it's easy :- )
Anyway I got my first cuddle and kiss of her yesterday, she is well cute...lol
I mentioned in the facebook group that I am trying to take it easy this week and have a bit of rest...
...But you know me by now it's not easy for me do just rest and I started an experiment where I record these daily emails and then put them on a facebook page.
You can see them appear here:
https://www.facebook.com/prratings/
I know not all my readers like facebook so I may also start uploading them somewhere else shortly as well.
The reason for doing this that I often explain ideas using PR Ratings V3 which is hard to convey just in text.
As example.
Yesterday I got an email asking "Where are the shared systems in PR Ratings".
The answer is:
Fire up PR Ratings and there is drop down menu called "Share Saves" just below all the tick boxes on the right hand side.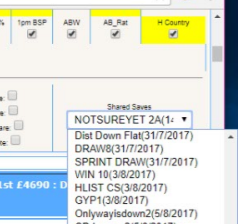 There are over 100 shared systems so plenty to choose from.
(When I record this later I will also pick a system from the shared folder and show you how you can use it and even find ways to improve it.)
You simply click on the arrow on the right hand side of the drop down and it will show you all the saves along with the dates when they were created.
Easy.
Find out more here:
http://prratings.co.uk/
I had no suggestions about what else you can get for around for 66p a day...

...So I guess that makes PR Ratings V3 amazing value and should go up in price.
Until Next Time