Nearly 8 points up in one evening automatically...
So yesterday I got a text from my wife...
"Nice fish & chips".
She was out with her Mum & Dad so I thought she meant she was bringing it home for lunch...
30 odd minutes past and I thought that the fish & chips is going to be cold.
Then it dawned on me what she meant.
She was having lunch out with her parents.
Cheek!
I mentioned yesterday I have started to record this daily emails and put them up on facebook here:
https://www.facebook.com/prratings/
But I know not everyone likes facebook so I found another new home for them here:
http://prratings.co.uk/blog.asp
One of the recent additions to PR Ratings is the 5 minute before the off prices.
We started recording these in July so we haven't got a lot of data but it grows everyday.
I think it is going to be quite useful eventually for seeing the difference between before the off and BSP.
It's also going to be useful to find trends.
This morning I found a trend where if you select...
AW only races
Runners that had a price of 1.00 to 5.00 when the 11am prices came in
And runners that had a price of 1.00 to 5.00 5 minutes before the off.
There was 20 points profit.
Not bad for a couple of months but as I said it is probably a trend.
But I decided to set a bot up to have a test anyway.
This was yesterday's results.

That was nearly 8 points up in one evening!
Latest screen shot now 12 points up.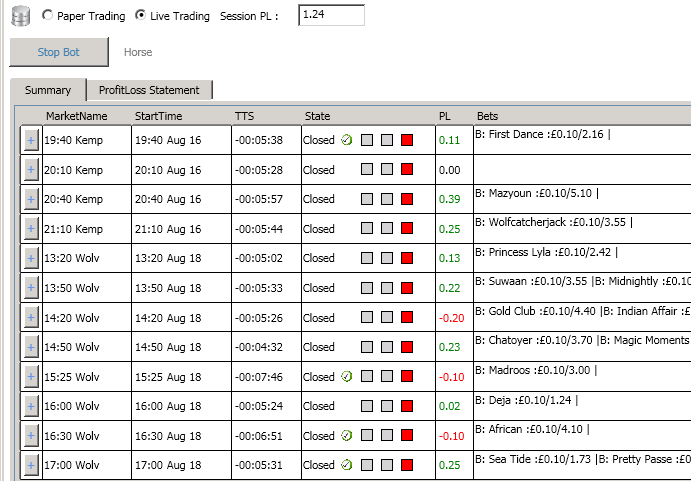 (I will discuss the settings for PR and the bot when I do the video)
Find out more here:
http://prratings.co.uk/
Less than the price of a daily coffee from a lorry drivers cafe!
Until Next Time