And this one goes past 50 points...
I think I have eaten and drunk way too much this weekend.
We have visitors for a couple of days which is not going to help the situation :- )
SAW had 3 losers on Monday so although it was bound to happen sooner or later you now have to decide how to deal with it.
Here are 3 ways.
1. Forget the day and take the hit of 3 points.
It will be interesting to see if the system at the prices could recover from this loss.
2. Use a recovery plan.
You could increase your stakes to see if that helped with recovery.
3. If you are already using recovery carry it on until your back in profit.
Let's get 30 days of results and then at least we can decide.
You can follow along with the selections here:
I was wondering how much you would normally pay for tips that made 40 points in one month?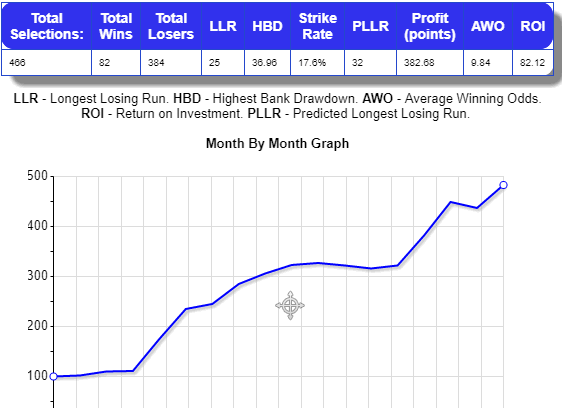 Probably at least £30 or more...
...In fact I have seen some services doing a lot less profit charging punters £50 or more!
We have a "shared system" in PR Ratings called "CJ XX" which when I checked before racing yesterday was showing a profit of 40.17 this month.
I just checked this morning and it had one selection yesterday and that also won at 6.31 : - )
That's on top of the other systems I have already mentioned that are in profit this month.
And PR Ratings is nowhere near £50 a month...
...In fact it is nowhere near £30.
And if you take me up on the last chance to get the 3 in 1 offer it is even less than £20 a month.
(This offer must close today.)
Until next time....