Is Horse Racing Pace really useful?
Over the years I have seen a lot written about using pace to find winners from UK horse racing.
Unlike other countries we don't have official pace ratings so UK punters have to use a bit of ingenuity in order to work out the type of runner a horse may be.
The way this is generally done is to either watch the past races of the horse in question to see how it has performed…
…Or use the in running commentary normally available on the results cards after a race has finished.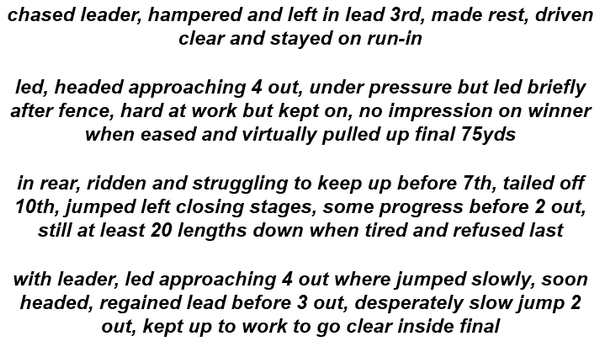 The in running commentary (being the most popular) is normally broken up into 3 or 4 parts (Using commas) to show how the horse performed at different stages during a race.
You will see comments like:


"Prominent, led before 2 out, pressed from last, hard ridden run-in, held on well towards finish op 7/1"


"With leader, ridden before 2 out, one pace in 3rd before last op 6/4"


"Left in lead 1st, headed before 2 out, soon weakened op 4/1"


The general theory is that horses are basically pack animals which tend to like to run within a certain position with a pack.


We tend to rank the horses into one of 4 categories.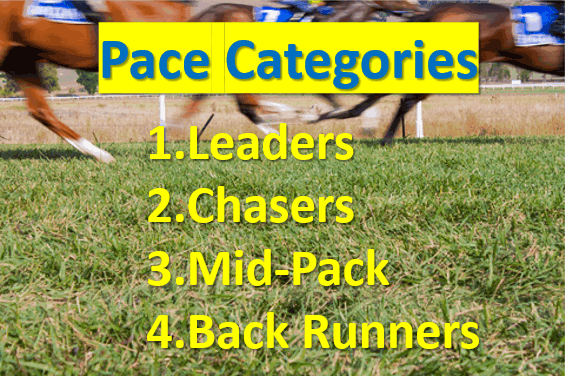 1. Like to lead
These are generally front-runner horses. They like to lead and if the conditions are right and have the stamina can just lead a race from start to finish.


The problem with these horses is that if there are more than one in a race (often then can be 3 or 4) then they tend to fight it out for the front and can end up burning each other out.


The in running commentary will normally say things like "With Leader", "Led", "In lead".
2. Chasers
These tend to be horses that like to stay in touch with the leader(s).
They tend to pick up the pieces when the leader is not up to job.
You will find a lot of winners come from chasers if the conditions suit.
The in running commentary will normally say things like "Tracked Leader", "Prominent".
3. Mid-pack runners.

The majority of horses fall into this category.
Some of these will be looking for opportunities to break away at the latter part of the race and often can have the skill and stamina to win a race especially in longer races where preserving energy is important.


The in running commentary will normally say things like "Mid Division"

4. Back Runners.
These are horses that tend to stick to the back of the packs. To be honest not many winners come from this bunch.
They do of course win but normally because they have found a course that suits them and the rest of the field hasn't run to form.
I get the feeling also that some Jockeys / Trainers read a race and on purposely hold back.
The in running commentary will normally say things like "Towards Rear", "In Rear"
Note: Some of the in running commentary may be open to your own interpretation and for more accuracy you may want to watch the race.
Race Pace
Once you have an idea of the type of runners there are in a race you can then decide what pace the race will be run at.


Again, they are generally categorised into four types.


1. Fast pace.
This is a race that generally has 2 or more lead runners in the race.


If they run to form they will head off at a fast pace and drag the rest of the field along with them.


Chances are this race will be won by a chaser rather than the leader except in short 5f or 6f races where the chance of burning out is less likely.


When you get to 7 furlongs or above stamina will count for a lot more.
2. Single fast pace.
This is where you have one lead horse who has a chance to win the race if all goes to plan.
This is a race likely to be won by a chaser if the leader loses ground.
3. Run to form.
This is a race that just runs how it should.


The top 3 in the betting will probably come in in that order or close to it.
There don't tend to be many surprises.
4. Slow Pace.
If there are no leaders or chasers in the race then this is what you will be left with.
This is any ones guess and will often be won by an unexpected outsider.


Probably the worst type of race to judge unless you can find a runner who has proved they can turn it on and win these types of races.


The Problems with pace.
As mentioned earlier in running commentary is broken up into 3 or more parts to represent different stages of the race.


Most pace analyses use the first part to decide what kind of runner a horse is.


T
his is fine if the last 4 races (the norm for judging) show the runner on every occasion to be classified the same…
…And even if they break down between two types like chaser/leader then that gives you a good idea of the type of runner it is.


But what happens if you get four different types?


Or two completely different types?


Which can often be the case.


The second problem with this theory is that a horse also has a Jockey riding on their back who may have different ideas about where they want to position a horse during a race.


Jockey and trainers don't just go into a race hoping things will work out…
…They look at the competition and how they will expect them to run the race and then create their own strategy around that.
They will plan where they need to be to get the best from their ride.
Sometimes this could mean riding mid-pack other times they may feel they need to keep pace with the leader to take advantage when/if the leader falters.


They may even fill in this particular race they can win from the front.


And of course, there may be occasions where they are just there to make up the numbers or take advantage of a race that goes totally wrong for most of the other runners.


Finally, whenever I see anyone talk about pace it is normally followed by…


"This is down to your own interpretation"

And the truth is it is.


Even the in running comments can sometimes be a little difficult to decipher.


All that being said, I still believe on some occasions knowing (or at least having a good idea) how a horse could run the race may help you pick a winner.


My feelings are it is at shorter distances 5f to 6f where they could be really useful especially in All Weather racing.


Add the pace together with draw bias and other form factors then finding a race where there is one clear runner that has the best chance to win could pay off.


If you can find a race where you have pace information on every runner based on a very similar distance, class and going then you have a great chance of picking a winner.


Everything else will depend on your skill, knowledge and experience of using the pace information to judge how the race will be run.


The only problem is that unless you have a lot of time to judge this yourself then you are going to have to use a 3rd party pace provider.


It is something I am working on myself to add to PR Ratings where you will be able to analyse it alongside 70 other horse racing filters.